About Us...
Our story began in 1908 and involved the founder of the town of
Alva, Captain Peter Nelson and the Alva Book Club with its founder and
Librarian, Esther Hovey.

The Book club soon out grew the homes where they held their
meetings and having acquired so many books, decided to look into the possibility of starting a public library. Captain Peter Nelson,
offered a piece of his property for the erection of a building to be used as a community library.

At the same time, a Mr. Charles A. Dean, offered $250.00 in matching money if the community could also raise $250.00 to build a library building.

The Alva Book Club reorganized into The Alva Library Association
and the donated land was deeded over on March 27, 1909 to the Alva Library Association Board of Trustees. The matching money was raised and the construction bid was awarded to A. J. English on March 29, 1909.
The building was completed on June 5th and dedicated on June 25,
1909. This became the first public library in Southwest Florida.
1909 Library building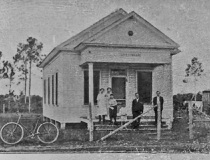 The building's usage varied greatly over the years.
In June of 1928 the Alva Civic League received permission to use the reading room, and, at their own expense, add a kitchen and a screened porch.
The library was closed in 1937 due to lack of interest. The books were loaned to the high school until such time as the library might reopen. In the 1940s the library was used by the overcrowded school as an Art class room, and eventually became the Alva Community Center. Later, the high school no longer wanted the books as they were outdated, and there was talk of disposing of the books in the Caloosahatchee River! They were rescued by outraged women and returned to the library building.

In 1974 the Alva Garden Club approached the Alva LibraryAssociation trustees about turning the building into a museum. With their approval, cooperation, and a lot of work, the Alva Library and Museum was born.

Miss Irby Clay, Mrs. Dan (Alice) English and Mrs. Margaret Foster
made up the Museum Committee while Be Skillinger and Mattie Watkins of the Garden Club and many other community members donated their time and funds to make the museum a reality. (from the October 02,
2010 obituary of Be (Beulah) Skillinger)

The museum is now tended by the Alva Garden Club and is open from
October to May, every Saturday from 2:00 pm to 4:00 pm.





---